[vc_row][vc_column][vc_column_text]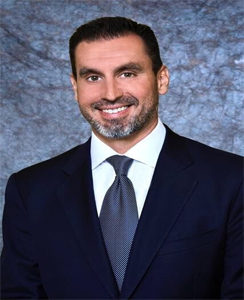 Matthew Tomkiel has exclusively practiced plaintiff's personal injury law in New York since 2003 with a primary focus on construction accident cases.
He is a partner and a third-generation attorney in his family firm of Tomkiel & Tomkiel.He is also "of counsel" to several New York law firms and litigates their complex accident cases. Matthew Tomkiel often assists other law firms as trial and appellate counsel and has several reported victories including:
$3.25 Million Million Trial Result: retained by attorney of record to assist in obtaining verdict for union scaffold worker struck by falling object during construction of Manhattan high rise
$3 Million Million Trial Result: representing passenger injured in a train derailment.
$2.7 Million Henry v. Eleventh Ave., L.P., 87 A.D.3d 523, 928 N.Y.S.2d 72 (2ndDept. 2011). Union carpenter injured when he hit his head on low hanging pipe and was caused to fall off the roof of a tool shanty during construction of a high rise in Manhattan.
$1.75 MillionMillion Trial Result: Home health aid injured back requiring surgery after she fell on icy steps at an apartment building in Westchester while visiting a patient.
$1.625 Million Trial Result: Alvarez v. 1407 Broadway Real Estate LLC, 80 A.D.3d 524, 915 N.Y.S.2d 263 (1stDept. 2011). Union bricklayer / marble worker injured during lobby renovation when scaffold he was climbing tipped.
Professional Associations and Memberships
New York State Trial Lawyers Association
Bronx County Bar Association
Yonkers Lawyers Association
Westchester County Bar Association
Education
University of Richmond,
St. John's University, School of Law[/vc_column_text][/vc_column][/vc_row]